4 best places to eat typical food in Siena
In this article we're going to talk about 4 places to visit in Siena if you want to try typical Senese dishes.
1.Nannini
Let's start with desserts. I know there is no logic at all,  but let's face the truth – we can eat them at any time. So Nannini is situated just in the center of Siena in Via Banchi di Sopra, 24. In this pastry you can find all kind of coffee (of course) and typical desserts of Siena such as Panforte (that is a sweet based on candied fruits and almonds), Ricciarelli (that are biscuits from marzipan), Cantuccini, different croissants and many others. At the evenings it's possible to have aperitivo with a drink and snacks. You can read more information about the place here:  Nannini
You can order both to eat immediately or to take away. Please notice that during certain periods of the day such as lunch break there are a lot of people. So when you go there, just be sure to have enough time.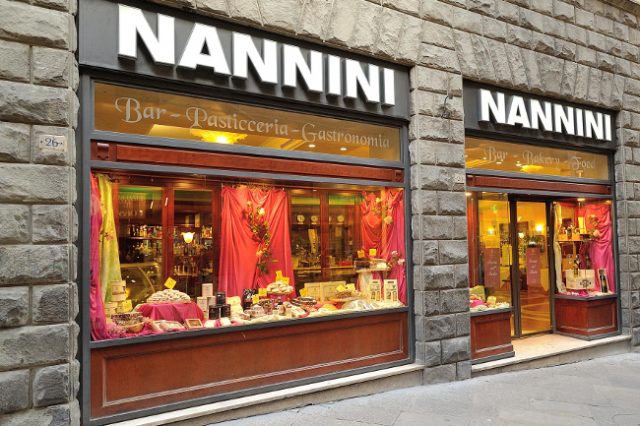 2.Antica Trattoria Papei Siena
The Trattoria is situated in the center of Siena in Via del Mercato, 6. It is a true traditional trattoria in Siena where you can find typical food. For instance it offers tripes, wild-boar, ribollita, different crostini, pici (type of pasta). You also can take pizza, of course. There are also some typical desserts of Siena. Prices are ok. You can check reviews and some more description here: Antica Trattoria Papei Siena.What is more, you can find a great variety of wine and the staff will kindly recommend you which you should take to accompany your food. Have you ever heard of an expression: "Good food and good wine go hand in hand?"
The Trattoria is quite large (at least for Siena), it has 3 rooms. During the summer it is also possible to seat outside. Actually it is very nice as you are surrounded by beautiful piazza del Mercato which magically makes the food even more tasty.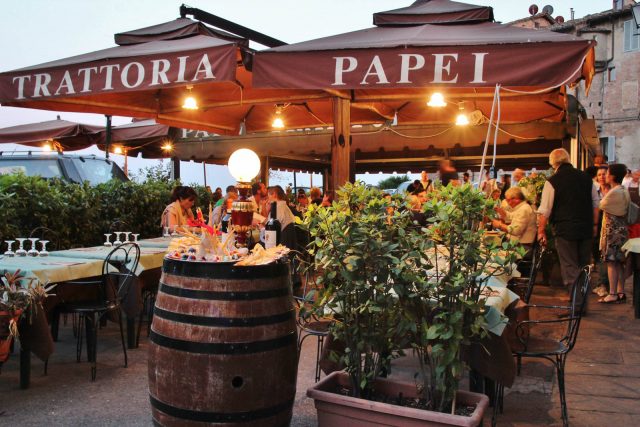 3.Osteria la Piana
Another amazing place to eat in Siena. Opened in 1955 this osteria offers typical Senese dishes. For first courses (just to name a few) you can try pici or  'Pappardelle al sugo di Cinghiale' that is homemade pasta with a red sauce of wild boar and for second course  guts and innards of beef, famous bistecca alla Fiorentina, that is T-bone steak of beef, grilled absolutely rare and 'Ossobuco alla Senese' in other words beef with bone and marrow cooked in its own sauce are waiting for you. All these dishes are accompanied with an amazing bottle of wine (even if you don't usually take wine, believe me, here you'll just have no other choice).
After that you can indulge yourself with desserts both typical Senese such as cantucci con vinsanto or torta della nonna and typical Italian ones such as tiramisù, panna cotta or cheesecake.
As for the atmosphere, this osteria is a very cozy one. You can read more information about the place here: Osteria la Piana . The staff is friendly and help you to make a choice with dishes. Prices are good, especially if we take into consideration that it is situated near the city center – around 16 EUR per person including drinks. The example of what competition are capable of.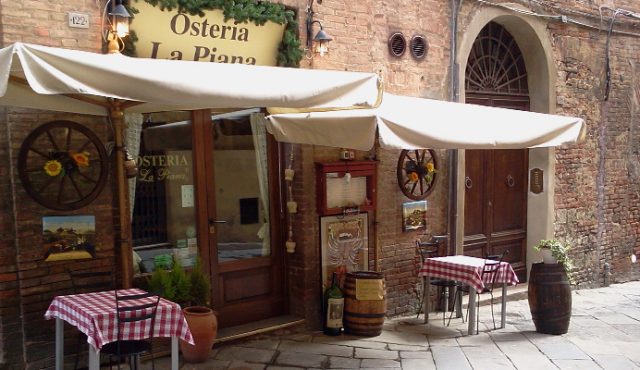 4. Il Vinaio di Bobbe e Davidedi
Last but not the least is Il Vinaio, osteria that belongs to two brothers. The  Osteria offers typical Sinese and Italian dishes. They offer a great variety of antipasta with meet and cheese. The atmosphere is super friendly. The waiters are truly happy to do their job and they always help to choose the right dishes. What is more, they have an open stand with some dishes or ingredients that they offer, so before ordering you can have a look at them.
It's better to book table in advance as there aren't many place inside. Prices are ok, around 13 EUR per person including drinks. It is situated not far from the city center, precisely  in Via Camollia, 167. For more information please go here: Il Vinaio di Bobbe e Davidedi